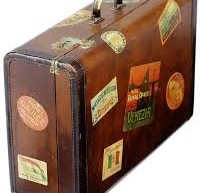 You've made it home safely after braving gastronomic adventures at greasy spoons, drinking from questionable water sources, and surviving white-knuckled taxi rides.  Now, post those vacation pictures on social media and wrap up the loose ends of protecting your identity.
Monitor Your Accounts: Shortly after you return from your travels, pay special attention to your account statements to make sure that nothing out of the ordinary appears. If a credit card number or bank account number was stolen during your trip, this is how you will catch it early and keep it from becoming a major nightmare. Contact your provider and alert them to the breach immediately.
Get a credit report: Hopefully you've monitored your accounts throughout the trip.  When you get home, request a report at www.annualcreditreport.com.  Check your credit report for any suspicious activity. Even if you don't see any unfamiliar transactions, that still doesn't mean you're safe.Identity thieves are known to take their time and act when you least expect it, so continue monitoring!