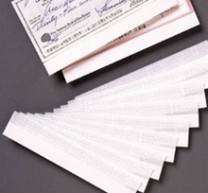 Proper check fraud prevention is of the utmost importance, especially at a time when instances of data crime are on  the rise. A line of checks from Deluxe aims to utilize technology to increase your financial security.
A big part of financial fraud comes from faulty or insecure checks, and companies need to take whatever measures they can to ensure their employees' payments are kept safe. Deluxe is now offering a brand of High Security Checks with more than 20 features to keep information private by reducing the chance that they can be copied successfully.
Each individual check in this series comes equipped with several simple but high-tech elements. While some of these features can be found in standard checks, several are exclusive to the High Security brand. The check's face alone contains both a foil hologram that is incapable of being reproduced and a thermally sensitive image designed to detect heat, not to mention a layered background image, which is more difficult to fake than a solid color. There is also a highly secure watermark that's resistant to such efforts. Even the paper itself contains chemicals on the back that will respond to any tampering attempts.