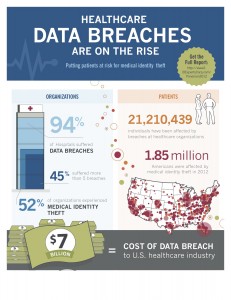 Definitions
Identity Theft: involves the misuse of another individual's personal identifiable information for fraudulent purposes.
Identity theft is the fastest-growing crime in the U.S., affecting 1 in 20 consumers.
Medical Identity Theft: occurs when someone uses an individual's name and personal identity to fraudulently receive medical services, prescription drugs or goods, including attempts to commit fraudulent billing.
Medical identity theft affected 2 million people in the U.S. in 2011.
Data Breach: a security incident in which sensitive, protected or confidential data is copied, transmitted, viewed, stolen or used by an unauthorized individual.  Data Breaches may involve:
Credit card numbers
Personally identifiable information
Protected health information
Social Security Number
Trade secrets
Intellectual property
Who/What's at Stake?
An identity is stolen every 3 seconds!
5 million Americans were victims of identity theft in 2003.