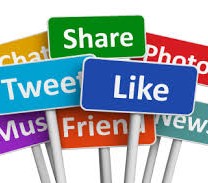 When was the last time you checked your privacy settings on your social media profiles? Being aware of the information you share is a critical step in securing your online identity. Below we've outlined some of the top social media sites and what you can do today to help keep your personal information safe.
FACEBOOK Social Media Privacy
Click the padlock icon in the upper right corner of Facebook, and run a Privacy
Checkup. This will walk you through three simple steps:
Who you share status updates with
A list of the apps that are connected to your Facebook page
How personal information from your profile is shared.
As a rule of thumb, we recommend your Facebook Privacy setting be set to "Friends Only" to avoid sharing your information with strangers. You can confirm that all of your future posts will be visible to "Friends Only" by reselecting the padlock and clicking "Who can see my stuff?" then select "What do other people see on my timeline" and review the differences between your public and friends only profile. Oh, and don't post anything stupid!